Watch this article on video
Printiful
Want to start an online business with no start-up costs? Then you're watching the right video. Today, I'm introducing you to Printful.
Printful is a print-on-demand provider that gives you access to everything you need to get started in the online business of accessories and personalized items. Printful currently offers over 200 different products to customize, and the list is growing daily. Printful allows you to sell t-shirts, leggings, dresses, backpacks, phone cases, pillows, coffee mugs and more.
This business is completely free to set up, with no monthly fees or minimum orders required. Printful can be easily integrated with your online store. In fact, Printful is compatible with most e-commerce platforms, including Amazon, Shopify, Ebay, Etsy, BigCommerce, Prestashop, WooCommerce, and many other marketplaces and platforms.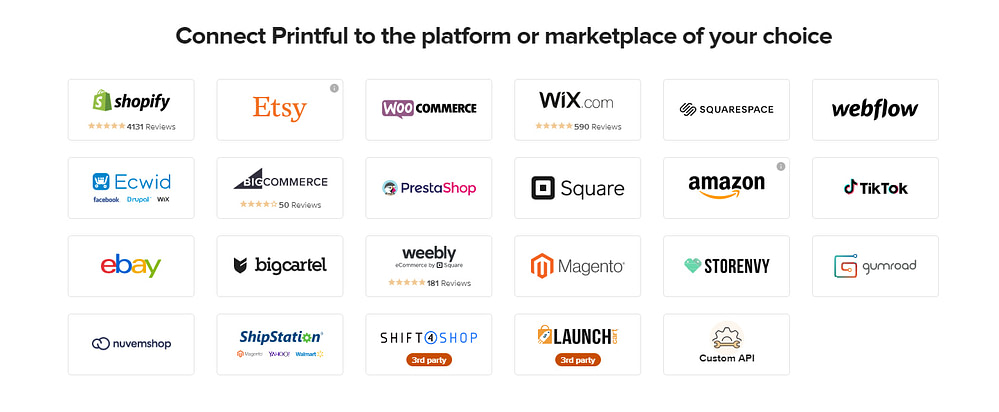 Have you always wanted to start your own business, but don't have enough money to pay for start-up costs and finance a start-up stock? Stay with us, you're in the right place, we're going to introduce you to an amazing solution.
How does Printful work?
With Printful, your customers simply place their orders on the marketplace, or platform of your choice, and Printful does the rest. Costs will be much lower because Printful already has the materials, equipment and logistical staff to run a printing and fulfillment business. Printful only prints your products once the customer has purchased them. This means you don't need any initial inventory, and your start-up costs will be zero, with no waste.
To get started, you need to create a free account on the Printful website.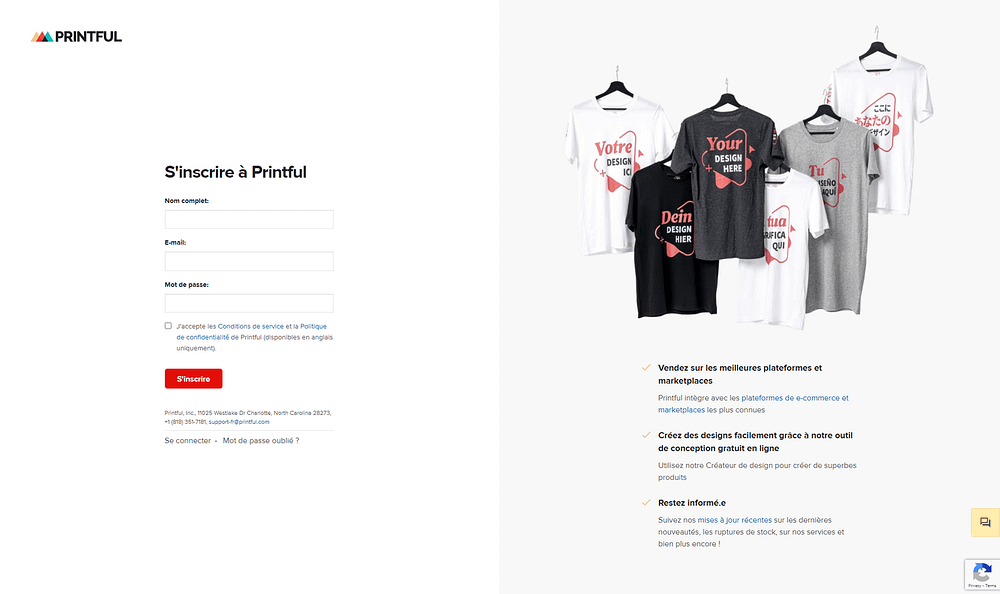 After you register, Printful will guide you through the process of creating your items.
First, you can choose the product you want with a variety of options available for size, material, color, etc.
Once you select the item of your choice, you will be directed to the Printful mockeupe Generator application. This online application will allow you to design great ideas, and launch new product lines, showing you what your final product will look like.
Here you can click on the "Upload your design here" button to upload a design from your computer. You can add text, images or your own designs to your t-shirt.
With Printful, you can customize every part of the product. For example, for a T-shirt, you can customize the front, the back, each sleeve and the T-shirt label. Mockups are available so your customers can see your products in action.
When a customer places an order, Printful produces the items, then packages and delivers them to your customer. This typically takes 2-5 days for printing and packaging, and depending on the customer's address, shipping time can range from 1-8 days in the US and Europe.
One of Printful's strengths is that its turnaround time is considered very competitive in the print-on-demand world. Printful has reduced delivery times by building distribution centers in the U.S. and Europe, as well as by partnering with trusted international logistics providers.
Financially, when a customer makes a purchase, they pay the retail price and shipping costs you set. Printful receives notification to manufacture and deliver your product, and charges you for the product, printing, shipping and applicable taxes. You set your own selling prices for each product, so you know in advance how much you'll earn on each sale. By setting your own prices, you can make as much profit as you want.
What products can I sell with Printful?
Printful offers a wide range of products including apparel, housewares and accessories. All products offered by Printful can be custom printed to create a unique product for sale. Currently, its catalog contains 228 items, ranging from shirts, jackets, sweatshirts and hoodies, sweatpants, joggers, leggings, shorts, skirts, dresses, swimwear, baby bibs, hats, phone cases, bags, jewelry, mugs, stickers, pillows and wall art.
As you browse Printful's online catalog, you will find that they have a wide variety of products to choose from. You can select products ranging from beach towels to sportswear, which you can put your custom design on. The best part is that the items are available in a wide range of materials, sizes and colors, so you can really design your items, your collections to your own specifications. Printful products are divided into five categories: men's apparel, women's apparel, children's apparel, accessories and home goods. In the men's department, you can choose from a wide variety of styles of shirts, sweatshirts and hoodies. The women's department offers shirts, leggings, swimwear, skirts, dresses, sports bras, sweatshirts and hoodies. And for the kids, you have shirts, leggings and baby bodysuits. The list of accessories is quite long. It consists of fashionable items that are perfect for your store. There are different styles of hats, bags, socks and phone cases.
In addition, you can also find non-clothing products such as posters, mugs, aprons, pillows and beach towels in the "Home and Decor" section.
To check the availability of options for a specific product, whether it's a shirt or a poster, you can check the Printful availability chart. You can access it on each product page by clicking on the "Availability" tab, and viewing the desired geographic area.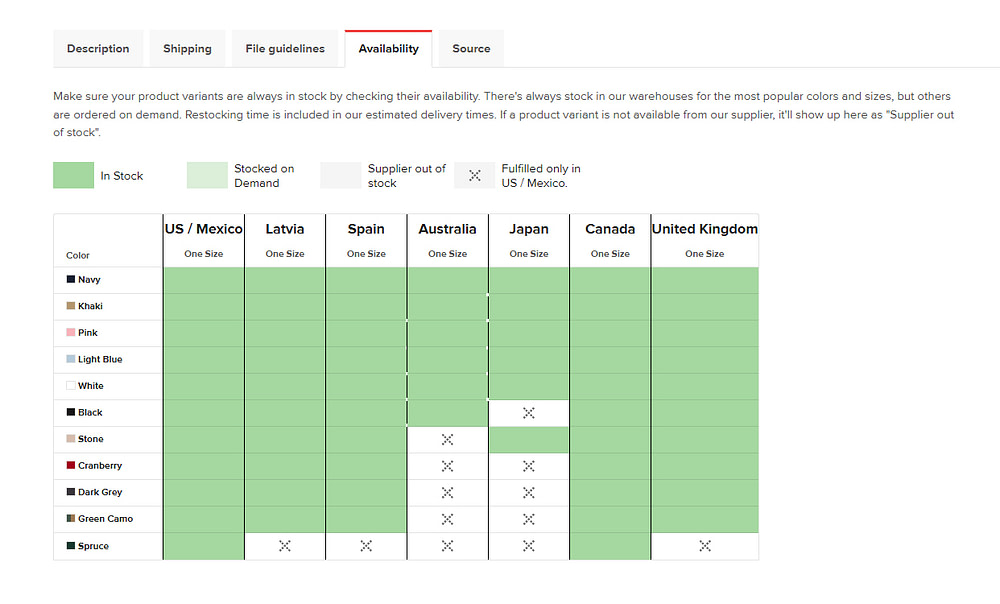 While all of these Printful products are perfect for your online store, the top three categories are t-shirts, hats and phone covers.
How much money can you make with Printful?
To date, Printful has completed over 10 million orders, representing a value of over $400 million. How much money can you make? That depends on three things:
The cost of your product charged by Printful,
the profit margin you determine,
Whether or not shipping costs are included in the selling price.
Creating an account with Printful is free. It is also free to use the Printful Mockeupe Generator application, and to put your mock-ups on your website on the marketplace of your choice. Of course, each product on Printful has a separate cost, and you are free to set your own selling price – so your margin may vary. Please note that there are other costs to consider, such as marketing, advertising, website design, your sales platform.
Printful charges you for shipping, so it is up to you to decide whether you want to pass on these costs to your product's selling price, or pay them yourself. It is recommended that you include at least part of the shipping costs in the price of your products and offer free shipping. This way, your customers will certainly be satisfied with the free shipping, and will not mind paying a slightly higher price for a t-shirt.
Once you have listed the costs associated with selling your product, you can decide on the selling price of your product and thus determine your margin.
Conclusion about Printful
As you've seen, Printful is a perfect solution for online sales. If you want to simplify your life, and start selling high quality print-on-demand products under your own brand, Printful is the perfect solution.
It's free to get started, and you only pay when a customer places an order on your store. So you don't have to finance inventory. So why not get started now?