AMZ Tracker to improve your ranking and help you keep it
11 Amazon markets supported
🇫🇷 🇬🇧 🇩🇪 🇮🇹 🇪🇸 🇺🇸 🇨🇦 🇮🇳 🇧🇷 🇨🇳 🇯🇵
AMZ Tracker is aimed at sellers who are already present on the Amazon market and who wish to improve their rankings and therefore their sales. The application is mainly focused on product launch and sales tracking and competitive analysis.
Features
AMZ Tracker combines in one application 9 tools to develop sales of your products. Be careful, it is not meant for sellers looking for a new winning product. These are more oriented towards applications such as Jungle Scout or Helium 10.
1. Amazon Keyword Rank Tracker
You can track a product's ranking on multiple keywords. This is one of the best Amazon keyword ranking tools.
It is possible to visualize the impact of your changes on the ranking of your product. You can optimize your ads and increase your sales. The ranking is updated several times a day.
You can follow your more powerful competitors to inspire you with their improvements.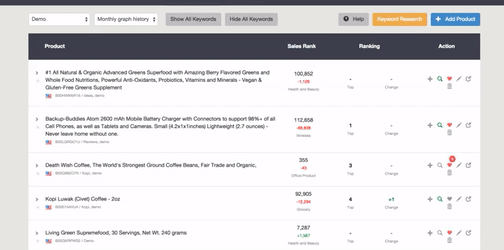 Zoom

Visit the Website of AMZ TRACKER

2. Listing Optimization On-Page Tool
To reach the best rankings you have to optimize your listings by targeting certain keywords.
With this tool you can instantly increase the conversion rate of your listings and improve your BSR in a minimum of time.
The optimization tool allows you to check point by point the various elements of your listings. He will analyze :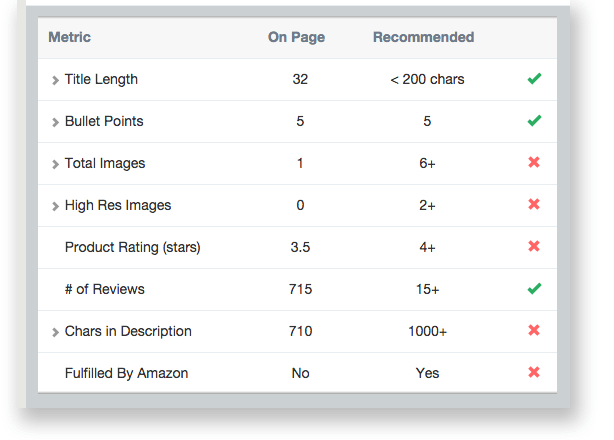 Zoom
✅ The length of your titles

✅ The bullet points

✅ The presence of high resolution images

✅ The product evaluations

✅ The number of reviews

✅ The product description section

✅ The presence of your keywords in the title, the bullet points and the description.
3. Amazon Super URLs Tool
With the Amazon Super URL tool you can send traffic directly to your listing from Amazon and thus improve your ranking on Amazon.
The tool creates for you a shortened URL that you can use anywhere, on your website, on Youtube, blogs, social networks, where someone could click to visit your Amazon product page.


Zoom
Amazon Super URLs makes Amazon believe that your visitors first searched for your targeted keywords before coming to your product page. In use, Amazon will interpret that your product deserves to be ranked higher when someone searches for your targeted keywords. It will then rank your products higher in the search engine.

Visit the Website of AMZ TRACKER

4. Negative Review Notifications
It takes 12 positive reviews to offset a single negative opinion. With this tool, you are informed as soon as a customer leaves less than 5 stars (1-4 stars).
Answer him immediately to remedy his problem. You may be able to offer them a refund. You can change your mind and have every chance to increase your rating.


Zoom
5. Hijack Alerts
Receive an alert when a seller tries to hijack your listing.
Take action before it collects all the crucial data about your product and market.
6. Email Notification Tool
The Email Notification tool sends you a report of your Amazon activity by email at the desired frequency without having to log in to your Amazon Central Seller.
You can set keywords and products to customize your report.
Our Review
functionality :
 4/5
ease of use :
 4/5
Speed :
 5/5
Pricing :
 4/5
AMZ Tracker is primarily geared towards conversion optimization.
The application allows you to keep a history of your data as well as products and services of your competitors.
AMZ Tracker Allows you to find ideas and strategies needed for your products and thus to make profits
It facilitates the work of the Amazon seller to improve its BSR rankings. The application allows to put in place very effective strategies to increase sales.
AMZ Tracker is an excellent toolbox. The application is for both beginners and confirmed sellers.
This tool allows you to manage your Amazon FBA strategy by tracking the history of your sales, your positions, and analyzes of your competitors
We highly recommend this application. You can also make your own opinion by testing it for free and without a credit card over a period of 7 days today.
Pricing
Application rates based on the number of products and keywords to track, with a monthly payment.