Helium 10 a suite of 14 incredible tools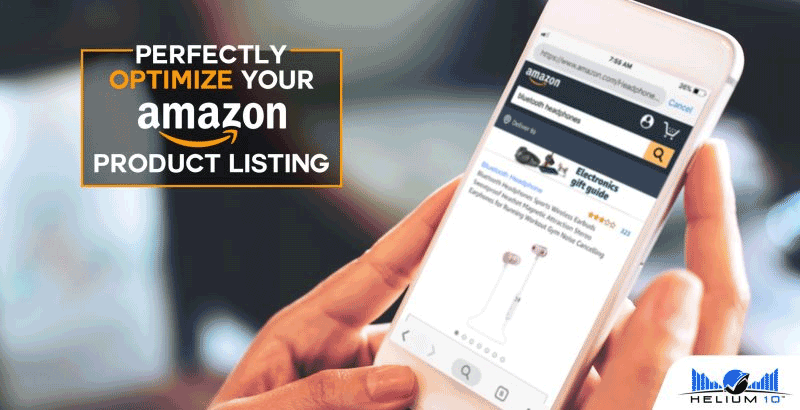 Helium 10 is one of the best tools in its class.
The Helium 10 Software Suite contains 14 tools to help you find
High-potential keywords, identify trends, spy on competition and optimize your product listings to increase sales exponentially.
New tools are regularly added to meet the demanding needs of Amazon sellers.
It works in 11 Amazon markets.
🇫🇷 🇬🇧 🇩🇪 🇮🇹 🇪🇸 🇺🇸
🇨🇦 🇲🇽 🇮🇳 🇧🇷 🇹🇷

Features
Most Helium 10 branded tools can be purchased separately or bundled. This is a very interesting feature for those who only need a specific tool and do not want to pay for the full package. A free version is also available for beginners with limited use.
1. Black Box

Similar to Jungle Scout Database, you can enter your criteria for a list of winning products.
The Black Box tool allows you to search for product niches corresponding to your budget, your criteria. You will discover new opportunities in just a few seconds.
Thanks to its multi-factor algorithm you will get what you are looking for.
The list of available filters is impressive: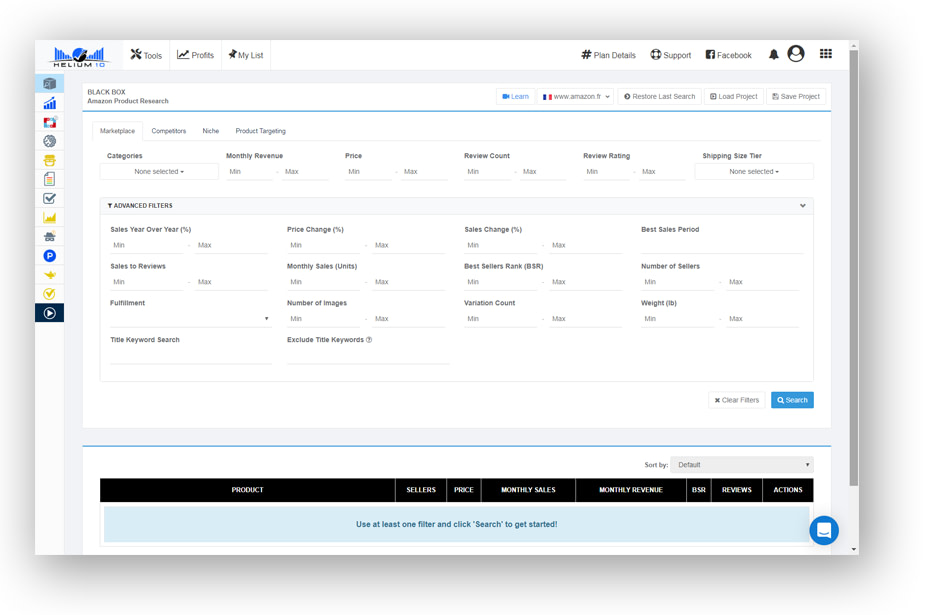 Zoom
✅ Categories
✅ Estimation of monthly income
✅ Prices
✅ Number of comments
✅ Customer Rating
✅ Product dimensions
✅ Weight
✅ Number of sales over the last 12 months
✅ Number of sales by comments
✅ Keywords
✅ Number of images
✅ BSR classification
✅ Number of sellers
✅ Etc …
After selecting your search settings, click Search for a list of quick results. Each product line will reveal crucial product information that any seller would like to know, ranging from monthly sales to the number of competitors currently selling this product.
2. Xray

This is a Chrome extension. This is a great alternative to the Chrome Extension of Jungle Scout. It allows you to analyze potential markets while browsing the Amazon site.
The Xray extension displays the most important information to help the Amazon seller make a decision.
Get valuable product information for each product on high potential markets:
✅ Prices
✅ FBA Fees
✅ The number of sales
✅ Sales trend
✅ Revenues
✅ BSR classifications
✅ The notation
✅ The number of comments
✅ the dimensions
✅ etc …
In use the extension of Helium 10 proves to be as precise as that of Jungle Scout.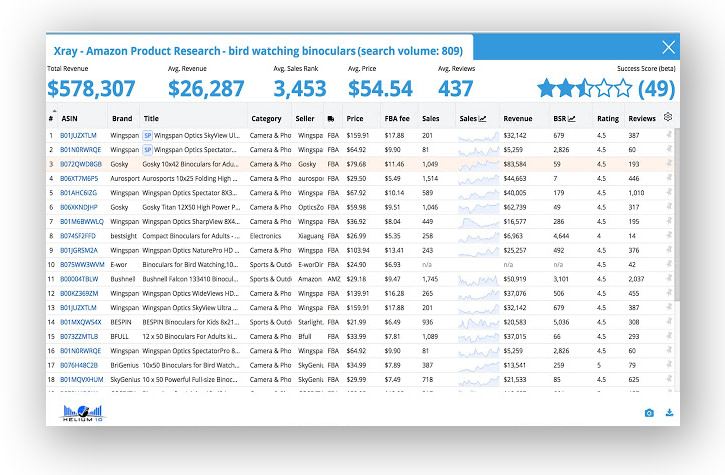 Zoom
3. Magnet

Magnet is powerful keyword research tool. It allows you to find the optimal keywords to insert in the front-end and back-end of your product listings.
You do not need to use multiple tools, just enter a starting keyword in Magnet to get a list of high potential keywords.
You'll be able to quickly determine which keywords are best for targeting to increase traffic to your products.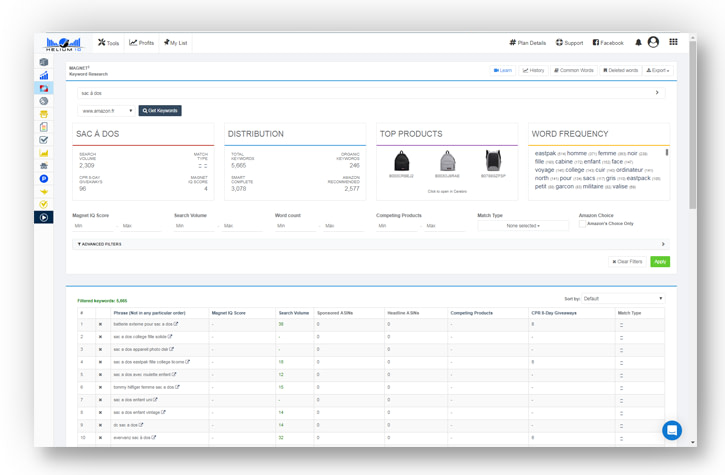 Zoom

Visit the HELIUM 10 website

4. Cerebro

Spy on your competitors. This is one of the most popular Helium 10 tools. Enter the ASIN code of a competitor's product and get hundreds of keyword suggestions.
For each keyword, you will have access to useful information such as:
✅ the estimated search volume
✅ The organic ranking
✅ the number of competing products,
✅ competitors advertising
✅ The level of competition
✅ The Cerebro IQ Score to appreciate the opportunity
✅ etc …
Your Amazon keyword research process will be quick and easy. Insert recently found keywords into your product listings and maximize their visibility.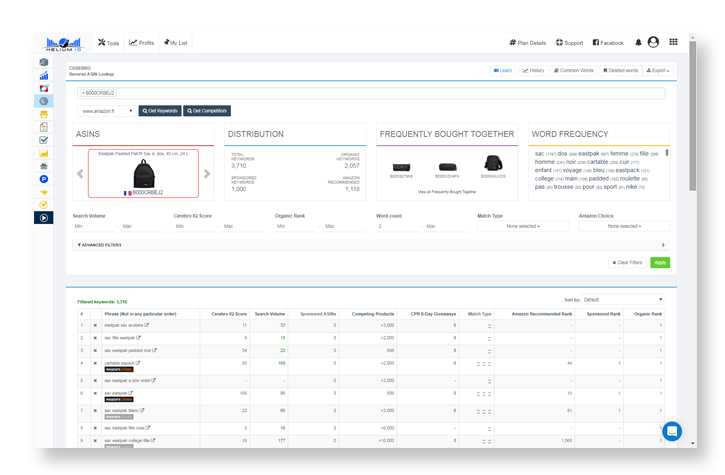 Zoom
5. Frankenstein

To drive more traffic and increase sales, you need to know the keywords that customers use when searching for your products.
The Frankenstein tool will allow you to efficiently process thousands of keywords in seconds.
You can deduplicate them, delete unwanted keywords, rank the words by popularity. You can process large quantities of keywords to insert into your product listing and back-end.
Frankenstein will help you succeed as an Amazon FBA seller and give you an edge over your competitors.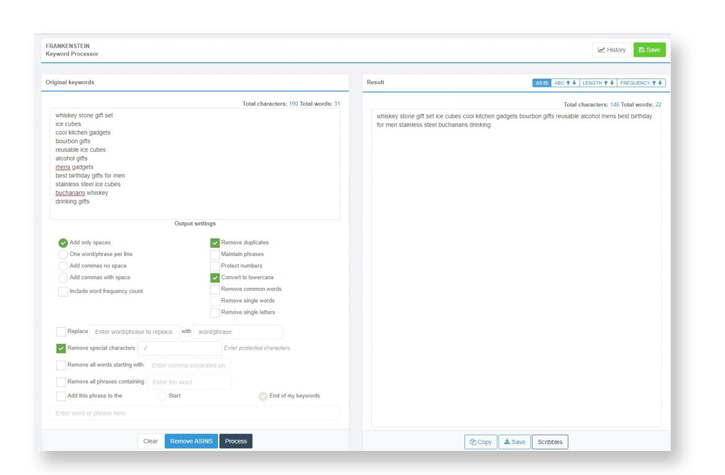 Zoom
6. Scribbles

Scribbles is an ad optimization tool.
With the help of this powerful Amazon SEO tool, you'll never forget to include a valuable keyword in your listings.
You'll appreciate the ease with which you can create engaging ads in the front and main parts of your product page.
Scribbles will help increase your revenue and speed up your Amazon seller activity.

Zoom

Visit the HELIUM 10 website

7. Keyword Tracker

The Keyword Tracker is a keyword tracking tool. Enter the ASIN of your product in the tool and you will know the ranking of your listing for all your targeted keywords.
You will be able to visualize the positive impact of the improvements you have made to the optimization of your listings on the BSR ranking.
The tool will provide you with valuable information about your competitors by displaying the ranking of their products for different variations of your keywords.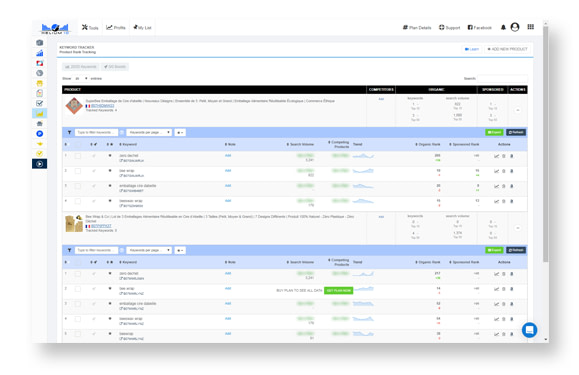 Zoom
8. Index Checker

Index Checker allows you to check if your front-end and back-end keywords are indexed.
Thanks to this tool you will earn hours of work. No more scrutiny for each keyword. It only takes a few seconds to check if you are indexed to Amazon.
Index Checker identifies bad keywords that do not sell, to avoid indexing them instead of high-potential keywords.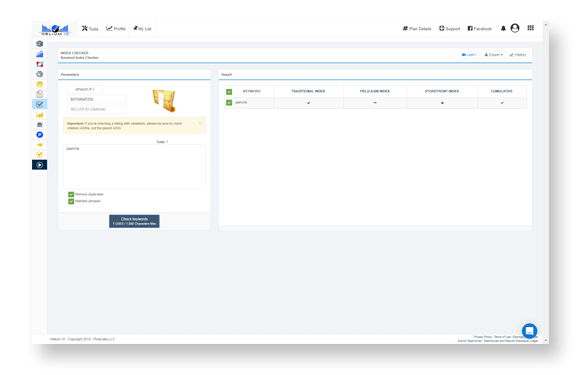 Zoom
9. Alerts

It is important that you protect your brand. Prevent Hijackers from destroying your reputation.
The Alerts tool prevents fraud by monitoring the ASINs you select. So you make sure that no Hijacker sells your products or modifies your lists.
Alerts will detect losses related to purchases, changes in the ranking of the best seller, changes to badges, product deletions, etc …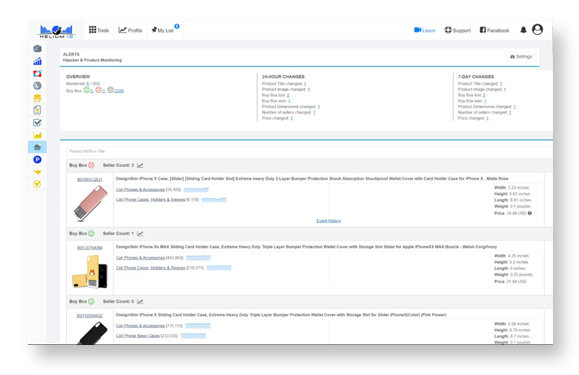 Zoom

Visit the HELIUM 10 website

10. Inventory Protector

Inventory Protector protects your stock against excessive sales during a promotion or launch. The tool allows you to limit the number of items that can be purchased at a reduced price by one person.
Inventory Protector prevents Amazon buyers from using this tip to voluntarily reduce your profits.
You can also set these limits in the Central Seller, but this is a tedious task that can be seriously eased with Helium 10.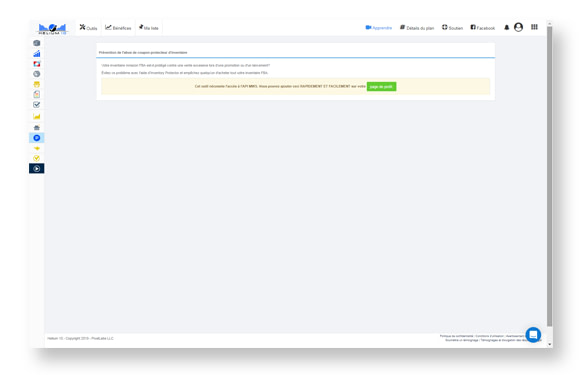 Zoom
11. Refund Genie

Refund Genie identifies your lost or damaged inventory that must be refunded by Amazon.
Manual tracking and Amazon FBA inventory refund reporting is a nightmare.
In fact, the process is really complicated and confusing. Refund Genie allows you to generate a report for all your lost inventory at the click of a mouse.

Zoom
12. Trendster

Trendster allows you to analyze the seasonality of a product.
In just a few clicks you know if sales of a product will be stable throughout the year, or if significant drops in demand will likely immobilize your cash flow.
Just enter an ASIN and you will be able to know the trends of a market.

Our opinion
Functionality :
 5/5
Ease :
 5/5
Speed :
 5/5
Pricing :
 5/5
Helium 10 ranks among the best tools.
It's a tool "All in One", you have in the same interface all the necessary tools for your success on Amazon.
Very complete, you will realize serious savings, because you do not need to subscribe other subscriptions with other software.
The tool is very precise, surely more accurate than Jungle Scout.
It is fast and easy to use, whether you are beginner or confirmed.
We highly recommend this application. You can also make your own opinion by testing it for free.
Pricing
Try Helium 10 FREE!
The free plan allows you to test all the features.
If you are convinced you can go platinum plan at a price of $ 97 / month or, if you are a big seller, choose the diamond plan at $ 197 / month.
But you can also create your "à la carte" plan, to use only certain functionalities.
Helium 10 is one of the cheapest tools on the market.