You're probably wondering, "What should my budget start on Amazon?" ". It all depends on your experience and your knowledge. The less experience you have, the higher your budget will have to be.
Then it depends on your product, it can be worth a few euros or several tens of euros.
In this article, we will focus on a sales strategy on Amazon FBA. That is to say, you will entrust the management of your stock and your customer delivery to Amazon. We will be interested in the Private Label, that is to say that you will sell your products under your own brand.
Here we will not talk about making a fortune by investing only 300 €. To be a successful seller you will need to make a minimum investment to make your project viable.
So we'll make an honest inventory of all the necessary costs that you need to get ready to start your activity on Amazon
Training
A beginner who will launch on Amazon without any training is very unlikely to succeed. A beginner can always find on the internet excellent blogs and free training on Youtube.
But top quality paid training can quickly lead you to success. Unfortunately, many courses are incomplete or lack updated. It is therefore important to check the opinions before buying on the internet a training of several hundred euros. Beyond a simple training, coaching can guide you and help you during your learning phase on Amazon.
Every Amazon seller will sooner or later be faced with a problem, a point of blockage, and coaching will offer you the experience of an e-commerce professional and will save you a lot of time and money. 'money.
The trainings have a cost, the prices can go from 200 € to 1300 € but often with the possibility to pay in several times.
Amazon Professional subscription
You will need to open an account on the Amazon Seller website. The business account has many features that are not available for the particular account. If you need to manage large sales volumes, if you need to conduct PPC campaigns to boost your sales and if you need to create promotional codes, you will have to choose the business account. Because if you do not subscribe to the professional account you will not be able to sell in certain categories of products and you will not be able to access the order report and benefit from the automatic management of your stocks.
The cost of a professional subscription is currently 39,90 € HT per month. For an individual the subscription is free but you will have to pay besides expenses of sale per article of 0.99 €. Beyond 39 articles sold per month, it will be more interesting to subscribe to a professional subscription.
Be careful that you take a professional subscription or you will have to pay a commission on your sales. This is a percentage that applies to the tax-inclusive price of your product. This percentage varies depending on the Category to which your product belongs. It is very often 12 or 15% depending on the category of your product.
You will also need to add FBA fees, if you choose to delegate to AMAZON storage, deliveries and customer service. These FBA costs will depend on the size and weight of your products.
Product samples
In order not to take unnecessary risk, and receive a stock of unsaleable product, you will have to ask for samples of products.
You may have selected a supplier from a Chinese site like Alibaba, or DHGate or another sourcing platform. There may be confusion between the product described and pictured and the one you have in hand. It is imperative to order some samples to verify the quality of the product by yourself before validating your future supplier.
You will then be able to test and verify if the samples are working according to your expectations, and inspect their strength.
It takes between 50 and 100 € for each sample delivered to your home, within a period of 5 days. It all depends on the initial value of the sample ordered. The cost invoiced for the samples essentially represents the cost of delivery by air.
If you order from a Chinese site, most of the time, the supplier will refund the amount of your samples as soon as you place your first order. This should encourage you to require samples to avoid any unpleasant surprises
Initial stock
To build your initial stock, you will need to order between 300 and 500 product units depending on your budget.
You will preferably look for a product with a selling price between 25 and 50 euros. So why a price between 25 and 50 euros?
Below 25 €, it will be difficult to clear a margin and secondly if your product has a selling price of less than 25 € it will not be eligible for free shipping by Amazon as part of the premium subscription . This may put off many potential buyers.
Above 50 €, your initial investment may be too important for a first experience. In addition, for a purchase over 50 euros customers will prefer to think, talk to their spouse and will be less inclined to buy impulse.
Take the example of a product that will sell 25 € TTC on Amazon, you must aim for a supply cost of less than 6 € per unit. This purchase cost includes the product and its shipment. You will place an order that will amount to 300 units around 1800 €.
It should be noted that suppliers on Alibaba may require a minimum order quantity. This is called the MOQ. You may, however, try to negotiate a lower quantity than the MOQ, but the unit price of your product will be more expensive. It will be necessary to calculate your margin, not to buy a product too expensive and ruin any hope to make a profit.
Packaging
You do not have to have a custom packaging to sell on Amazon FBA. But a beautiful packaging will always have a considerable impact on the perceived value of your product. It's a great way to stand out from the competition. Because it's the first impression that counts.
Your product can be at least packaged and protected in a polybag transparent polyethylene bag. But if all your competitors use a low-quality plastic bag, you can stand out with a beautifully designed cardboard box.
This quality packaging is an excellent way to enhance your brand. Your packaging will contribute to the development of your brand. It will protect your product and heal its presentation. It will allow you to differentiate your product from those of your competitors and get better sales.
Applications
You will need to manage your Amazon FBA business from an application.
You will be able to use tools like Jungle Scout or Helium 10. These tools are indispensable and make the difference between the successful sellers and the sellers who undergo the market on the Amazon marketplaces.
These tools will allow you to find your future winning products, calculate the revenue and margins of your next products, improve your product listings, manage your inventory and replenishments, and optimize your advertising PPC etc …
To put the odds on your side you will need, as we saw at the beginning of this article, both a minimum of training and a powerful tool.
For a quality application and to start, it will take a monthly budget between 50 and 100 € / month.

Trademark registered
When you launch on Amazon FBA you may choose the Private Label strategy.
By creating your own brand you will be able to value your product. Customers will no longer look for a product but the brand of your product.
Amazon offers to protect your brand by registering it in its trademark register. Amazon will be able to protect your trademark brand from counterfeiting and listing squatting.
Registering your trademark on Amazon's registry is free. But you will have to justify a registration of your trademark at the INPI for France for example. This will cost you 210 € if you register your brand directly online and 250 € if you deposit it by mail. The deadline for publishing your mark will be approximately 6 weeks. So to protect your future product, start registering your brand before ordering your product in China. You will have saved time during the delivery of your product and the creation of its listing.
Barcodes and labels
Amazon requires a GTIN barcode when creating your product listing. It is from this GTIN code that Amazon will generate its own code "FNSKU" which will be affixed to the packaging of each of your products.
Amazon informs the vendors of its platform that in the near future, only the GTIN codes generated by the GS1 establishment will be valid.
If your turnover is between 0 and 500 000 € the GS1 annual subscription is € 85 HT + for the first year an entry fee of € 85 HT. At this price, GS1 guarantees the uniqueness of the code that will be allocated to you. You will be able to create up to 1000 GTIN barcodes.
You will always be able to buy on Amazon from other websites a GTIN code for 10aine euros. But beware, it may be a recycled code that has belonged to another company and Amazon may block your product or close your shop if he decides to strictly enforce its rules.
To avoid these costs of buying a GTIN, you can always ask AMAZON to apply an exemption if you market your product under your own brand.
Now that you have your FNSKU code generated by Amazon, you will be able to paste your labels on your products. No product will be able to enter Amazon's warehouses without having a laser-readable FNSKU label.
If you want to keep your margins high, you may consider printing your own sticky labels and sticking them on your products. However, you will need to appreciate the time needed to print and paste them.
However, you can ask your Chinese supplier to stick the labels on your products for 1 cent label. But beware of labeling errors, label inversions on your products.
Amazon can also tag the items. The cost will be € 0.15 per product.
Product inspection
Many Amazon sellers skip this step, and take the risk of receiving non-sample-compliant products. Quantities and quality may not be respected.
It is possible to go through organizations that will perform for you an inspection of your products before shipping.
Without this inspection, damaged, defective, damaged packaging will cause negative reviews of your customers and have a disastrous impact on your sales. Amazon estimates that 15% of orders are returned due to defective or damaged products.
You should know that if your refund request rate from your customers exceeds 10%, Amazon will suspend your ad and send you a warning. These returns will have a serious impact on your profit margins.
The cost of an inspection is between € 0.20 and € 1 per product depending on the company mandated, the time required, the rigor of the inspection, and the number of products inspected etc …
Taxes and customs duties
As soon as your products arrive on the French territory, the customs services will control the invoice of your Chinese supplier. They will set the amount of VAT and customs duties for import products from a country outside Europe. VAT is calculated on the amount before tax charged by your Chinese supplier.
The freight forwarder responsible for shipping your product from China will take care of your customs declaration and advance the VAT and customs taxes. You will then have to pay your carrier, the cost of transport, the refund of VAT customs duties and management fees for the customs declaration.
Customs duties depend on the nature of your product and the country of origin outside Europe. To know the amount of the customs duties of your product you will be able to consult the Internet site of the customs.
PPC Advertising – Pay Per Click
Your products will not sell on their own. You will need to start your sales with advertising on Amazon. This advertisement is called "Pay Per Click" or PPC. You will have to define the keywords entered by the buyers in the search bar of Amazon. Then you'll bid on each of these keywords to rank them in search results to make them visible and get visits to your product listing.
As your conversions progress, the natural ranking of your products will improve.
You must consider this expense not as a cost but as an investment.
We can assume that you will invest € 10 a day in advertising for your product, or € 300 per month.
Product photos
The quality of the photos of your product will have a strong impact on your sales. Buyers choose a product, certainly according to its characteristics, but especially according to the proposed photos. It is thanks to the photos that you will be able to differentiate yourself from your competitors.
If your budget allows, you will need to orient yourself to professional images. If you do not, you will always be able to photograph your product with your smartphone. The photos must have a minimum resolution of 1000 pixels per side so that the buyer can zoom the image by hovering over your image.
A full set of professional quality photos should cost you between € 150 and € 500 depending on the photographer.
Reduce the Budget on Amazon FBA
To optimize your initial investment you will be able to achieve several steps yourself.
Thus you will be able to realize alone the design, the photograph, the logo, the writing of your product sheet. You will need to claim an exemption from Amazon to avoid buying a GS1 code. At first, you will be able to skip training. You can then buy books, consult blogs and free videos on the internet. The main thing is to get started and work hard.
It will then remain only incompressible costs:
Your subscription to Amazon: € 39.99 per month
The purchase of some samples produced: € 100
300 units of products with the cost of shipping € 5 € or € 1500
VAT advance on import € 300
Customs fees and carrier's file costs € 100
Registration fees for your trademark at the INPI € 210
PPC advertising to sell your product otherwise you will not sell anything, € 300 per month
Having tightened your budget, you will need a starting bet of € 2549.99. So plan a budget between € 2600 and € 3000 because there will always be unforeseen. Below this amount you will realize too little margin and your gains will be quickly absorbed by your monthly expenses, and you will quickly be unable to replenish your inventory.
At these costs you should not forget to add the costs of creating your business.
By being realistic, you will avoid losing your investment after a few months.
We thank you for your reading and we wish you a lot of courage.
Summary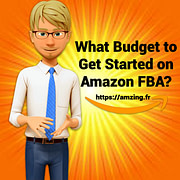 Article Name
What Budget to Get Started on Amazon FBA?
Description
So we'll make an honest inventory of all the necessary costs and budget you need to get ready to start your business on Amazon FBA
Author
Publisher Name
Publisher Logo